COVID-19: Vaccination Informaion
Blackthorn Health Centre is part of the Eastleigh Southern Parishes Primary Care Network (ESP PCN) which consists of four local GP surgeries; Hedge End Medical Centre, West End Surgery, Blackthorn Health Centre and Bursledon Surgery.
The COVID-19 vaccination programme will be delivered by our PCN.
Last Updated: Tuesday 22nd June 2021
Please read the Vaccine FAQ below before contacting the practice with any queries.
For more information on the COVID-19 vaccine booking process, please visit our COVID-19 Vaccine Clinic FAQ page.
---
What group(s) are we currently vaccinating?
Please see the image below for the latest update on where we are regarding the vaccination of all the cohort groups.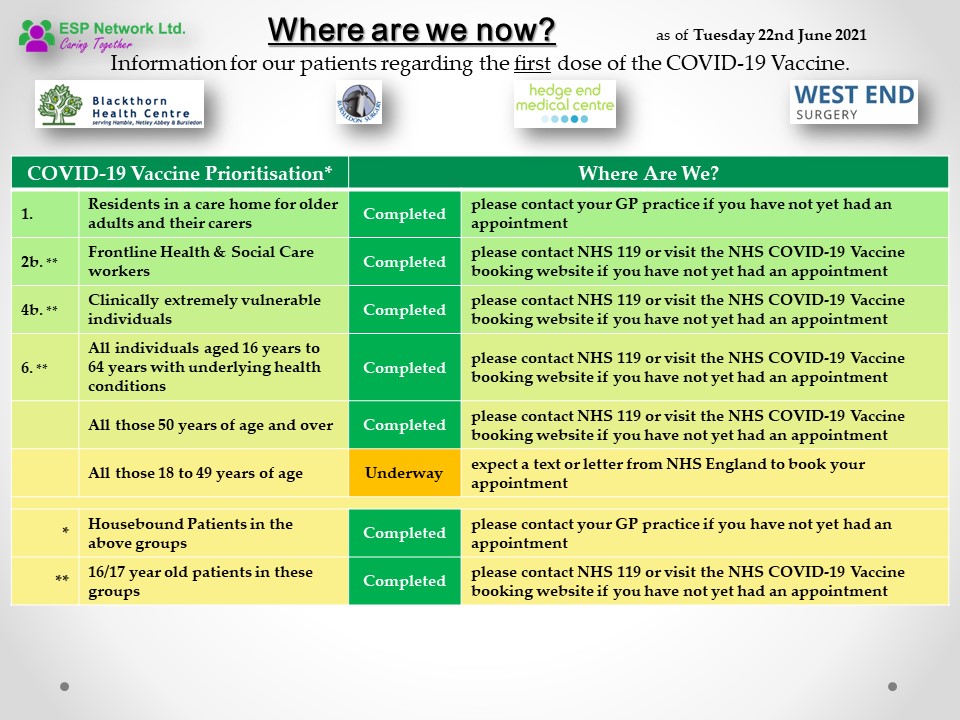 Please note, the data in this image is inclusive of all the eligable patients from our local four practies (Blackthorn Health Centre, Bursledon Surgery, Hedge End Medical Centre and West End Surgery). It also includes  those patients vaccinated from ALL the vaccine sites, not just our local vaccine site.
When will I be vaccinated?
If you are eligible, you can arrange your vaccine appointment through one of the other NHS vaccination sites via the NHS England COVID-19 Booking Page.
For more information on the COVID-19 vaccine roll-out programme, please see Public Health England's COVID-19 Vaccine Supplies Information page.
What if I am eligible but not contacted?
There is a large number of patients to contact for this vaccination programme and a limited number of vaccinations per delivery. As a result, we are not able to recall everyone at the same time. As a result, friends and family in the same group as yourself may be vaccinated before you. This is a normal process as part of such a large vaccination programme.
If you believe you are in an eligible group and have not yet been invited, please contact 119 in the first instance. Following this, please contact us via our Vaccine Enquries Form.
For those patients that are housebound / in a care home, we will be coming out to vaccinate these patients. If you are registered housebound but can get to one of our vaccination sites with assistance, please let us know and we will arrange your appointment at the vaccination centre when your group is eligible.
In addition, the guidance is updated regularly as to any patients who cannot have a particular vaccine due to allergies, pregnancies, etc.
I am a Healthcare or Social Worker, how do I receive the vaccination?
So we can make sure your medical record is up-to-date, if you are a Healthcare or Social Worker, please advise us of this, by completing the COVID-19: Occupation Details for Frontline Health & Social Care Staff form.
I am a carer, how do I receive the vaccination?
So we can make sure your medical record is up-to-date, if you are an informal carer, please advise us of this, by completing the Carer Status form.
My employer needs me to have the vaccination before I return to work?
We are vaccinating patients as per the NHS England criteria set out below. If your employer is not allowing you to return to work without having the vaccine, we are unable to expedite your appointment.
As a result, you will need to discuss this directly with your employer. The Advisory, Conciliation & Arbitration Service (ACAS) provides further support regarding this which can be located here.
What vaccine will I be vaccinated with?
Currently, our PCN has been chosen to administer the Pfizer Biotec and the Oxford University/AstraZeneca vaccine. However, please note we are provided the vaccinations centrally from NHS England. Therefore, we may not be able to guarantee which vaccination you will receive at the time of your appointment.
In addition, the NHS has recently approved the use of the Moderna COVID-19 vaccine, but we have not yet had a delivery of this vaccine.
For more information on the COVID-19 vaccinations, please see the relevant link below:
There are more COVID-19 vaccines being developed and this page will be updated when these are approved for use in the NHS.
Will I experience any side effects from the vaccine?
Like most vaccinations, there is always a possibility of experiencing some mild side effects. The most common side effects associated with the Covid-19 vaccine are as below.
a sore arm where the needle went in
feeling tired
a headache
feeling achy
These side effects are usually mild and should last not last longer than a week. You can take painkillers, such as paracetamol, if you need to.
For further information regarding the Covid-19 vaccination, please follow the below link.
https://www.nhs.uk/conditions/coronavirus-covid-19/coronavirus-vaccination/coronavirus-vaccine/?gclid=EAIaIQobChMItfCF0LDN7QIVWoFQBh1wwgKfEAAYASAAEgJ9ZvD_BwE
Is there any Easy Read material for the COVID-19 Vaccination?
Yes, please find a useful easy read document for the COVID-19 vaccination below.
We use cookies to help provide you with the best possible online experience.
By using this site, you agree that we may store and access cookies on your device. Cookie policy. Cookie settings.
Functional Cookies
Functional Cookies are enabled by default at all times so that we can save your preferences for cookie settings and ensure site works and delivers best experience.
3rd Party Cookies
This website uses Google Analytics to collect anonymous information such as the number of visitors to the site, and the most popular pages.
Keeping this cookie enabled helps us to improve our website.